"Forbes Japan" August 2007 issue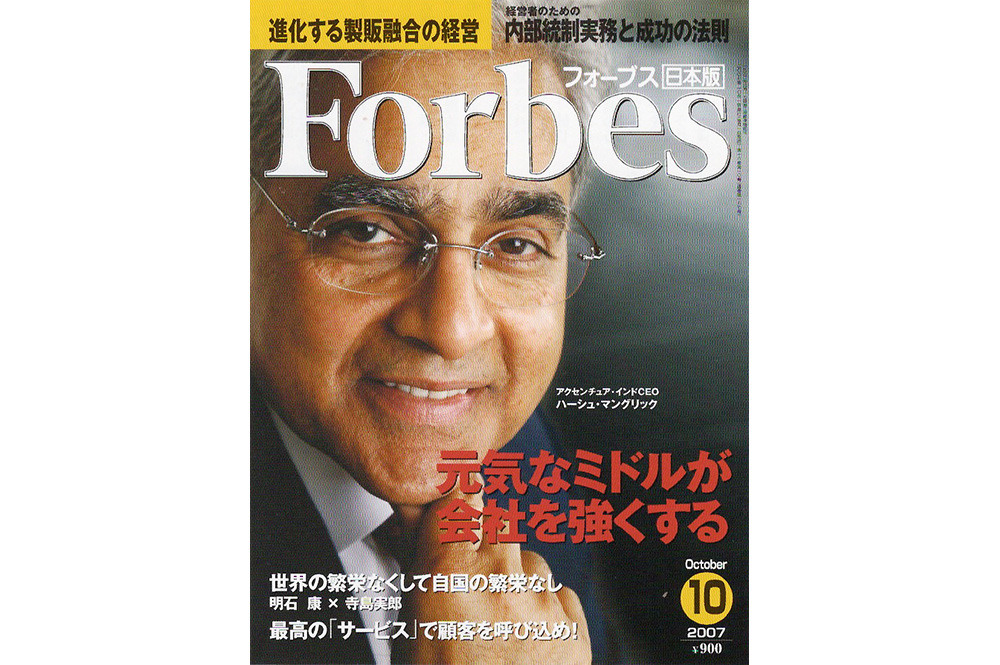 Featured in the August 2007 issue of Forbes Japan.
Thorough instruction in "accident prevention know-how," which is most needed in the nursing care field.
We aim to improve the quality of care by providing dispatched staff who are "ready to use from day one.
ONE TO ONE Corporation
President and Representative Director
Yoshiyuki Nezu
"I want to create a rewarding environment for each and every one of our employees and lead the nursing care industry."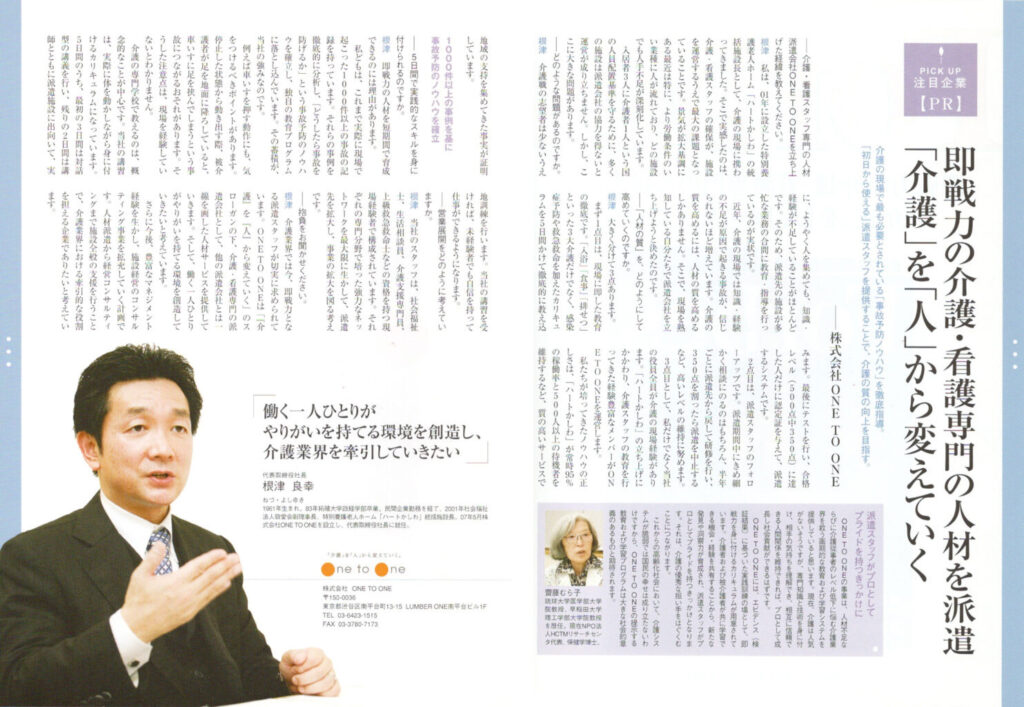 Dispatch of immediately capable caregivers and nursing specialists
Changing "Care" from "People
<Questioner> How did you start ONE TO ONE, a staffing agency specializing in nursing and caregiving staff?
I have been involved in the nursing care field as the general manager of Heart Kashiwa, a special nursing home for the elderly established in 2001. What I realized there is that securing nursing care and nursing staff is the biggest challenge in running the facility. Especially in recent years, when the economy is on an expansionary trend, people are flowing to industries with better working conditions, and the shortage of staff is becoming serious at all facilities.
In order to comply with the national staffing standard of one caregiver for every three residents, many facilities need the help of temporary staffing agencies to operate. However, there is a major problem here.
<Questioner> What kind of problems do you have?
The number of applicants for caregiver positions is small, and even when they finally get someone, they usually lack the knowledge and experience. As a result, the facilities to which they are dispatched provide education and guidance in between their busy work schedules.
In recent years, there has been an incredible increase in the number of accidents caused by lack of knowledge and experience in the field of nursing care. The only way to prevent accidents is to improve the quality of care. That is why we decided to start our own temporary staffing agency, as we know the field well.
<Questioner> How do you plan to improve the "quality of human resources"?
There are three major points.
The first is a thorough training program tailored to the workplace. The curriculum includes not only the three major nursing care areas of "bathing," "eating," and "elimination," but also infection prevention and first aid, and is thoroughly taught over a five-day period. Finally, a test is administered, and only those who have reached a passing level (350 out of 500 points) are given a certificate and dispatched to the site.
The second point is follow-up with dispatched staff. In addition to detailed consultation during the dispatch period, we strive to maintain high standards by returning them from the dispatch site every six months for training, and discontinuing dispatch if they break 350 points.
Third, not only I but all of our board members have experience in the nursing care field. We are all involved in the launch of "Heart Kashiwa" and have extensive experience in training nursing care staff.
The correctness of the know-how we have developed is proven by the fact that Heart Kashiwa has gained the support of the community for its high quality services, maintaining a 95% occupancy rate at all times and a waiting list of more than 500 people.
Established know-how on accident prevention based on more than 1,000 cases
<Questioner> Can they learn practical skills in 5 days?
There is a reason why we are able to develop immediate human resources in a short period of time.
We have records of more than 1,000 accidents that have actually occurred in the field. We have thoroughly analyzed those cases, established know-how on how to prevent accidents, and incorporated it into our unique training programs. This accumulation is our strength.
For example, there are some points to be aware of when pushing a wheelchair. If the care receiver puts his or her feet down on the ground when starting to move from a stationary position, there is a risk that the wheelchair may pinch the care receiver's feet, resulting in an accident. Such precautions can only be taken through experience in the field.
Most of what is taught in nursing schools is conceptual. Our training curriculum is designed to allow students to acquire skills through hands-on experience; the first three days of the five-day course are interactive lectures, and the remaining two days are spent with the instructor at the facility where the student will be sent for on-the-job training. Our training will enable you to work with confidence, even if you have no experience.
<Questioner> How do you plan to develop sales?
Our staff consists of experienced professionals with field experience who are qualified as social workers, lifestyle consultants, care support specialists, and advanced EMTs. We intend to expand our business by making the most of the strong network we have cultivated in each of our fields of expertise and by expanding our clientele of dispatched workers.
<Questioner> What are your ambitions?
The nursing care industry is in desperate need of temporary staff with immediate skills, and under the slogan of "changing 'nursing care' from a 'human' perspective," ONE TO ONE is committed to providing human resource services that set us apart from other temporary staffing agencies as a temporary staffing agency specializing in nursing care and nursing. We are committed to creating a rewarding environment for each and every one of our employees.
Furthermore, we plan to utilize our extensive management experience to expand our consulting business for facility managers in the future. We hope to play a leading role in the nursing care industry by providing support for all aspects of facilities, from staffing to management consulting.
Opportunity for temporary staff to take pride in their professionalism.
Murako Saito
Professor, Graduate School of Medicine, Ryukyu University, Professor, Graduate School of Science and Engineering, Waseda University
I believe that ONE TO ONE offers a revolutionary education and learning system that can help the nursing care industry, which is suffering from a shortage of human resources and a decline in the level of nursing care workers. Although nursing care is not popular today, if you can acquire specialized knowledge and skills, understand the feelings of others, and maintain mutually trusting relationships with them, you can grow as a professional and contribute to society.
ONE TO ONE offers a curriculum that provides an evidence-based, hands-on training opportunity to develop immediate skills. As caregivers and care recipients share learning opportunities and experiences together, new discoveries and insights are fostered, and dispatched staff members are given the opportunity to take pride in their professionalism. This leads to the nurturing of excellent caregivers. In an aging society, the well-being of the people will not be possible if the care system is weak, so the education and learning program offered by ONE TO ONE is expected to be of great social significance.
*This article was originally published in the August 2007 issue of Forbes Japan.