Prof. Nezu gave a required elective class for first and second year students of Saitama Medical University.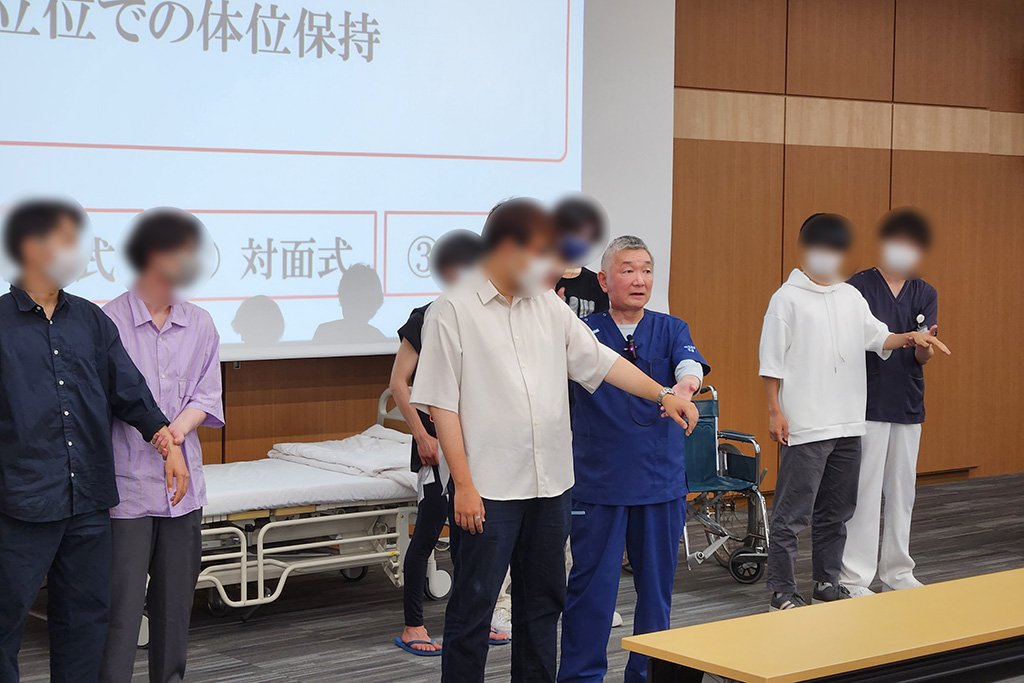 On June 5, 2023, Prof. Nezu gave an elective required class for first and second year medical students of the School of Medicine at Saitama Medical University.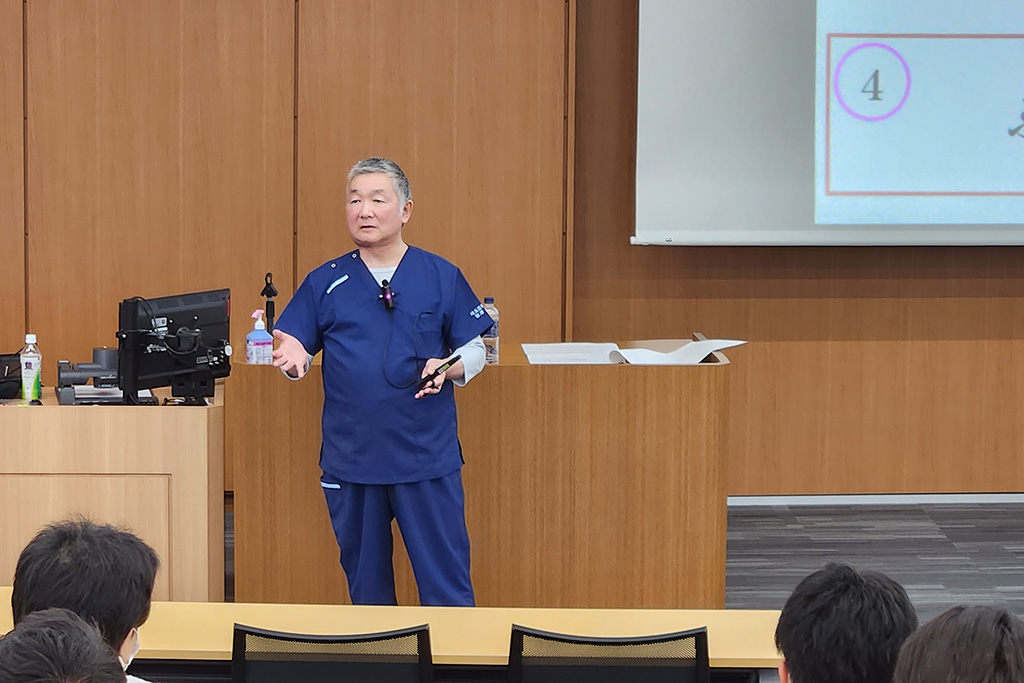 On Monday, June 5, an elective required class was held for first and second year students of the School of Medicine at Saitama Medical University. Elective required classes are classes in which students can freely choose the courses they wish to take. Prof. Nezu's lecture is the most popular, with more than 50 students requesting to take his lecture every year. At its peak, the number of students exceeded 70, but currently the maximum number of students allowed per class is limited to 50.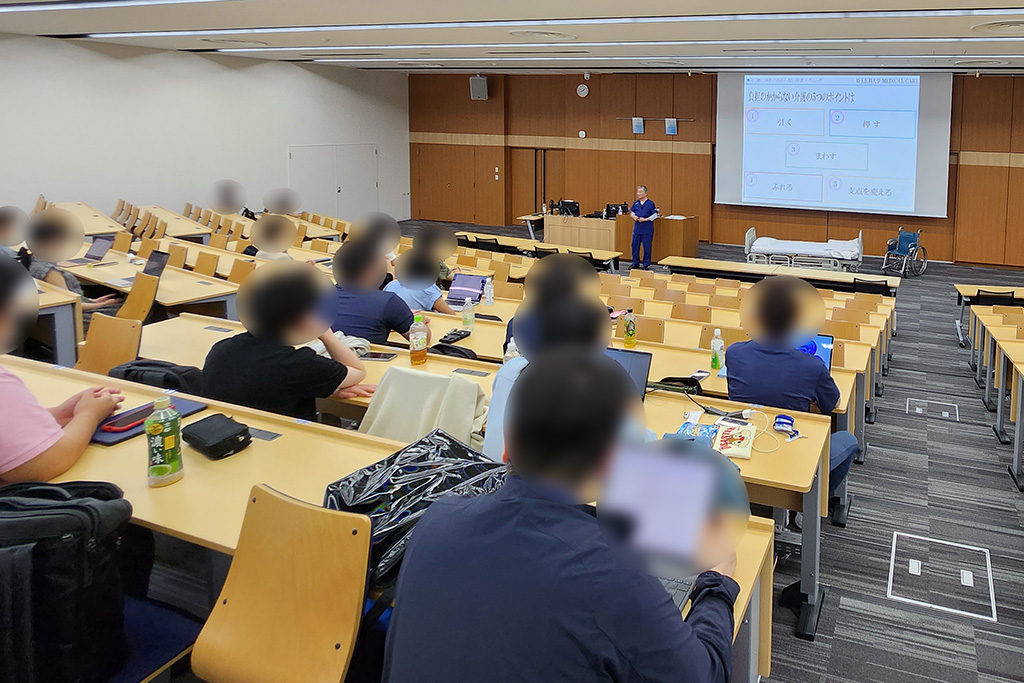 Of all the medical schools and medical colleges in Japan, Saitama Medical University is probably the only one that offers lectures on caregiving technique in medical school classes. Furthermore, this is not just a simple teaching of caregiving technique, but the first quality-assured, standardized caregiving technique to be taught at a university in Japan. The caregiving techniques developed by Prof. Nezu are revolutionary in that they do not place any burden on the caregiver's back and allow the care receiver to move and transfer with ease and without pain.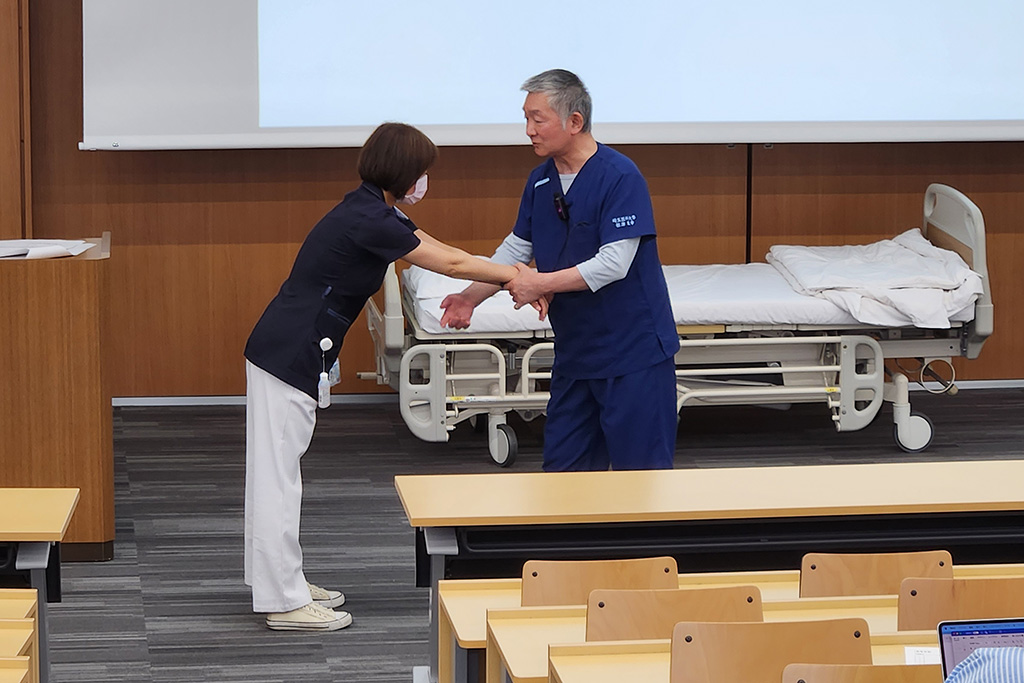 Prof. Nezu's caregiving techniques have been published by Kodansha as "Saitama Medical University Style: Comprehensive Techniques for Assistance that Require No Force", and as of June 10, it was ranked No. 1 in the two fields of nursing care  and adult nursing, attracting a great deal of attention.
Two experienced nurses from the nursing department also participated in the class.
This class was on "Fall Prevention.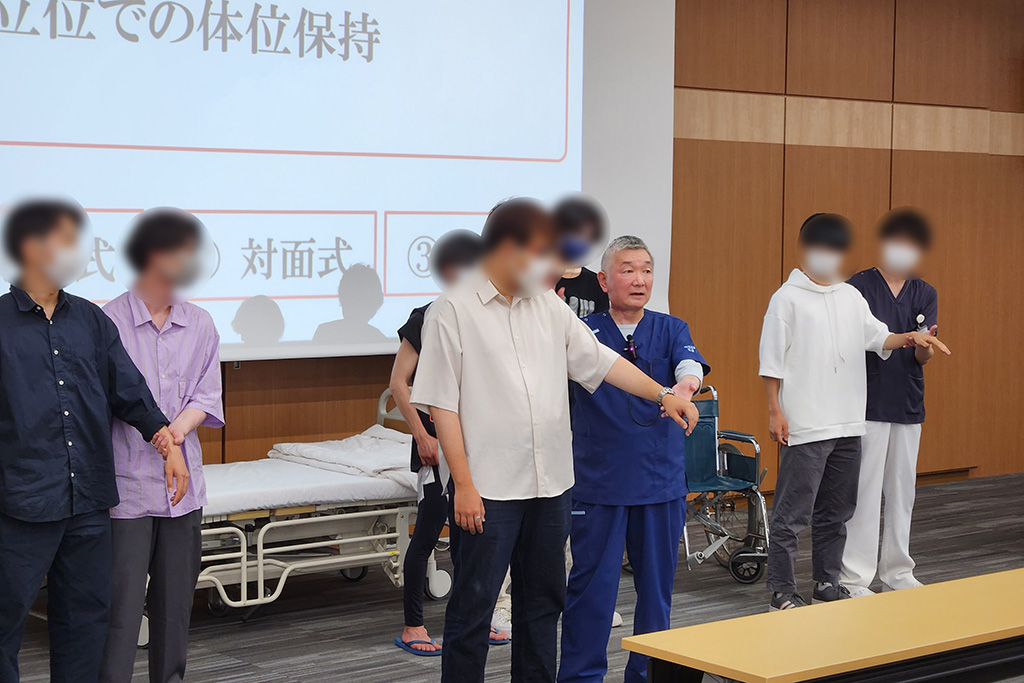 The students were astonished to see how the person playing the patient was unable to move, no matter how hard he tried to fall, as soon as Prof. Nezu held the position without using any force at all, and were amazed at the "eye-opening" from their eyes.
It was a wonderful class in which Prof. Nezu's enthusiasm was clearly conveyed to the students, as he made them realize that falls are accidents, and that they should take the initiative in acquiring caregiving skills to prevent falls and exercise leadership in the medical and nursing field.
Thank you, Prof. Nezu, for giving a very informative class for our students.
(Reported by Masafumi Oyama, Associate Dean of Saitama Medical University)
<Feedback from students>
■Y, 2nd year student
Today, for the first time in a long time, we learned and practiced many assisting techniques to prevent falls in Prof. Nezu's class.
I learned that there are two causes of people falling: 1. not knowing the direction in which a person falls, and 2. not knowing the concept of body positioning. A person can fall in six directions, three forward and three backward, and if the head falls in any of those directions, the person will fall no matter what kind of assistance is provided. Therefore, in order to avoid collapsing together even with assistance, we learned three methods of holding the body position: side, facing, and back. When we tried this method of caregiving, we were able to support a person with very little effort, and the student playing the patient did not fall over even when leaning backward, trying to fall forward, or collapsing. On the other hand, I learned that it is quite difficult to prevent falls when supporting someone as in power caregiving, and it is also hard on the back. It was amazing once again how little things can make such a difference in the amount of force required to assist a patient.
Also today, in conjunction with the previous content, we learned how to stand a patient in a chair without making him or her wobble, and how to make a standing person sit on the floor. In all of these methods, the method of holding the patient under the armpits with the arms in the "Kunoji-shiki" was found to be effective. I was impressed by how easy it was to hold the patient firmly in position by simply holding with the arms in the "Kunoji-shiki". Since falls are accidents and physicians are always responsible for their patients' falls, I thought I would review what I learned today and try to prevent falls before they happen.
■N, 2nd year student
In today's class, the students learned techniques for assisting patients that can be done without burdening both the caregiver and the patient. In particular, how to get a patient up from a chair in an appropriate manner, how to support a patient who is about to fall, and how to get a patient to sit in a chair were very helpful.
The five points of pulling, pushing, turning, touching, and changing the fulcrum can be applied to all types of assistance, and if we always keep them in mind, we can improve the efficiency of assistance and reduce the burden. In fact, when we practiced them in class, we were able to safely and smoothly provide assistance without putting a burden on either the patient or ourselves by using the appropriate assistance techniques.
We also believe that what we have learned in this class will be useful knowledge not only in the medical field, but also in the nursing care field and in home care. When providing nursing care, it is extremely important to reduce the burden on the caregiver and the person being cared for, and I am confident that this class will help in this regard.
I felt that the way the class was conducted was also very good, with careful and easy-to-understand practices. I would be happy to see more classes at medical schools in the future that are as practical as this one.
I think it is very important for those of us involved in medical and nursing care to have classes like this where we learn about assisting techniques. I will not forget what I learned this time and will devote myself to being active in the medical and nursing care field in the future.
■S, 2nd year student
I am glad that you talked about the seriousness of the fall accident problem at the beginning of the class so that I could understand how important today's class was and listen to the class more seriously than usual. I think it is a terrible thing to never be able to walk again due to a fall, so I really wanted to value what I learned in today's class. I was shocked to hear many actual cases of falls. I want to remember what I heard today for a long time to come.
It was the first time for me to know that people fall in three directions, both in front and behind. I thought it was interesting that the three directions were determined. I thought Prof. Nezu who discovered this was amazing. Also, when I first heard that there are cases where a person falls over with a broken bone and cases where a person falls over and breaks a bone, I did not understand what it meant, but after hearing the explanation, I could understand it.
Of all the things we practiced in today's class, I was most impressed with holding the position in the lateral position. I would like to practice it a lot while I am still a medical student because I think it is the most practical care I can practice in my immediate surroundings, such as caring for a drunk friend. In fact, I had a hard time caring for a drunken person yesterday, so I wish I had learned what I learned today earlier so I would not have had to use so much physical strength.
I want to do my best to avoid accidents such as falling down.
■K, 2nd year student
In today's class, I was able to learn about fall prevention. Since I did not know much about falls before, I learned the fear of falls and the importance of prevention in today's class. We learned how to support ourselves and how to do it without putting strain on our backs. Through hands-on experience, I realized that patients do not fall in any direction when they are supported in the ways we learned. I felt that learning about the direction in which a person falls and the concept of holding a position was very useful for me in the future. In the future, when I encounter a situation where I have to support an elderly person, if I had not attended today's class, I would have fallen over myself as well as the patient without knowing the fear of falling over. Through your talk, I felt closer to the fear of falling. I don't know when I will use what I learned this time, but I felt that I must review and learn it well so that I can act on it immediately. I would like to remember that "a fall is an accident," and I would like to make an effort to prevent falls now and when I become a medical professional.
■T, 1st year student
Thank you today.
Today again, instead of power nursing care, we were taught first of all to be aware of (1) pulling, (2) pushing, (3) turning, (4) touching, and (5) changing the fulcrum.
In addition, to prevent accidents involving falls, it is important to
(1) Not knowing the direction in which a person falls, (2) Not knowing the concept of body position retention, (3) Falling is an accident.
When I actually practiced the powerless nursing care method of supporting a person who was about to fall, the force to hold the patient's body was more stable than power nursing care, and it was easier for me to support the patient myself.
In addition, the power nursing care method was difficult to do and also physically painful on the patient's side.
I thought it was important to apply this nursing care technique in the field, both for the patient and for the caregiver.
I also heard that a fall accident can cause serious injuries, which in the worst case can lead to death or even amputation of the leg, so I strongly felt that I must learn this skill well and contribute to accident prevention as much as possible. I wanted to learn this skill by repeating it and remember it until the day comes when I can put it into practice. I look forward to next week's class.